Changsha Office
As SED's core strength in central China, Changsha branch office was established in October, 2014.
By adhering to the innovative 3T+ concept, international professional team and rigorous technical standards created by the headquarters, SED's Changsha office has become a regional management organization. Considering its own situation, it sets up an operation mode, "Integral Design"by Headquarters + Branch office, which means the headquarters controls the general design and offers flexibility to the design team in branch office, so as to give full play to the regional advantages for the design's best implementation.
Its business covers 5 provinces in central China, including the major cities such as Changsha, Wuhan, Nanchang, Hefei, and Zhengzhou etc.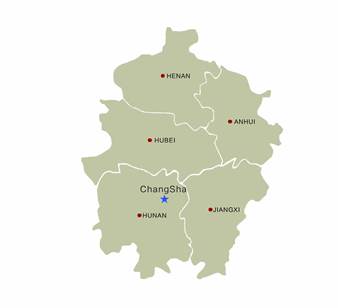 ★Over 30 strategic cooperators
★Complete more than 60 projects
Changsha branch office has developed distinctive operation modes of its own to ensure its responsibilities for both the customers and projects, guarantee unification of design quality.
一、 Comprehensive Organization
The general manager of Changsha branch office is responsible for the management. The office has more than 30 people, equipped with two comprehensive project teams, each of which includes schematic designers and construction drawing designers. There are other teams like public design team, softscape design team and W&E tech. team. Changsha office has its own marketing members and independent administrative management system.
二、Elite Design Team
The design team of Changsha branch office is mainly consisted of the elites who worked in Shenzhen headquarters previously and had profound experience in landscape design. They are equipped with advanced design ideas and have a good master of international design criteria, which makes a high quality and high level elite design team.
三、Union of 6 Companies
The traditional independent operation is broken in SED that the resources and technology of all the offices will be under united coordination, so that they could complement each other's advantages and hang tight together for common improvement in design quality.
四、Full Expansion of Regional Business
By making full use of its geographical advantages and collecting the business resources of the major cities surrounded, Changsha branch office regionalizes its management for precise-target business expansion.
五、Service Betterment
Changsha office is able to achieve timely construction follow-up by making full use of the design resources shared by the headquarters and other branch offices. Service paramount, the office's distinctive concept, runs through the whole design process and it cares so much on design communication, on-site service and post-stage coordination in order to ensure best implementation for every project.
Add: Unit 1501-1502, Meixihu Innovation Center, Yuelu District, Changsha
T 0731-88671918